Lessons
We offer lessons year round and are committed to getting you kiteboarding as quickly and safely as possible. We work to make sure your learning experience is rapid and safe by tailoring lessons to meet your individual needs. Our lessons will give you a solid foundation of skills that will allow you to enjoy kiteboarding for many years.
Why take lessons?
Lessons are about safety, both for you and for those around you. Most people who have watched kiteboarders do not realize how much power these large kites can generate. The same kite that allows an experienced kiter to get 30 feet in the air can be dangerous in the hands of someone without instruction. The lessons will help keep you and your gear safe, keep other kiters safe, and speed up your learning curve. During the lesson you can use our equipment and save the wear and tear on your own gear. A great lesson experience with rapid progression will keep you motivated and coming back for more.
Whether kiteboarding in the summer or snowkiting in the winter, kiteboarding lessons are always in season. Come join us for lessons and find out why kiteboarding is America's fastest growing sport.
Summer Kiteboarding
Anyone can learn to ride the open water with Dynamik Kiteboarding!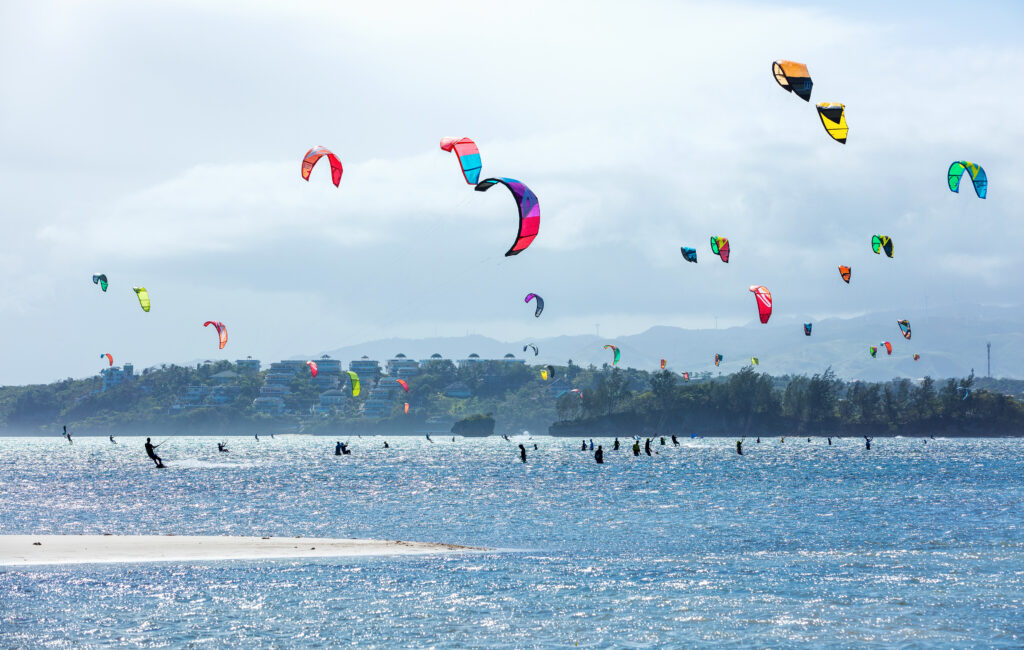 Open water kiteboarding in the summer offers long days, warm winds, fantastic flatwater and wave riding opportunities. Imagine riding Minnesota's lakes for hours with no boat pulling you – just the wind powering your riding all day! Unlike waterskiing and wakeboarding where all the pull is transmitted through your arms, the force while kiteboarding pulls you through your harness and is transmitted to your core. This allow Kiteboarders to ride for long periods even when the wind is strong.
Our instruction style and lesson program has progressed throughout years of fine tuning. All of our kiteboarding lessons are focused on safety and rider progression and have proven to be highly effective. Lessons with Dynamik Kiteboarding will help ensure your learning curve is rapid, safe, and fun.
We know your time and money are important to you so we will do our best to get you out on the water only when there is sufficient wind. We do not require you to prepay for your lessons either.
Dynamik Kiteboarding guides you throughout your series of kiteboarding lessons, ensuring your experience is safe and fun while speeding up your learning curve.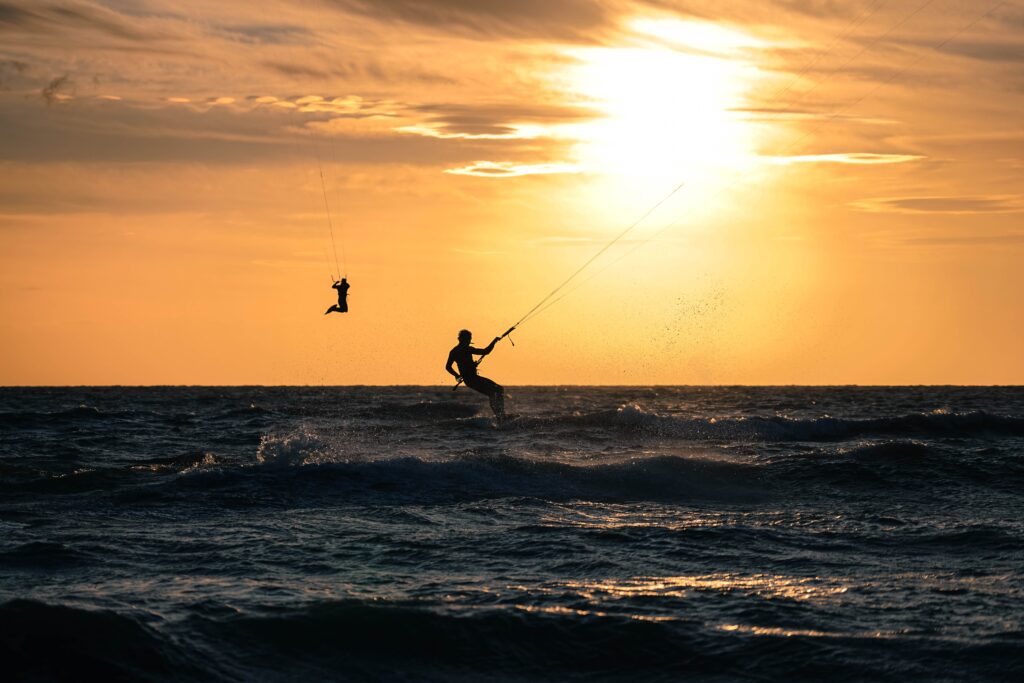 Intro to Kiteboarding
Cost: $100 Length: 3 hours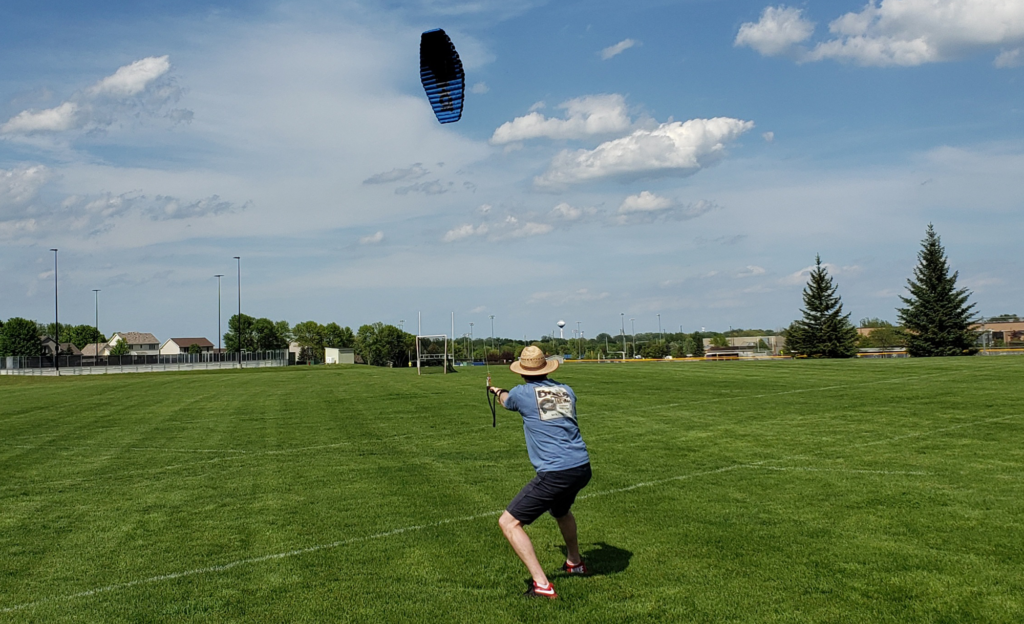 The Intro to Kiteboarding class is the best way to get introduced to the sport. This ground-based class teaches you the basic fundamentals of kiteboarding. The class covers the following topics:
This class is a prerequisite for the next lesson. A majority of the class is spent flying a trainer kite to establish the fundamentals of kite control. This lesson is taught in a number of locations around the Twin Cities. The locations are selected based on the day's weather conditions.
Kiteboarding 2 – Private Lesson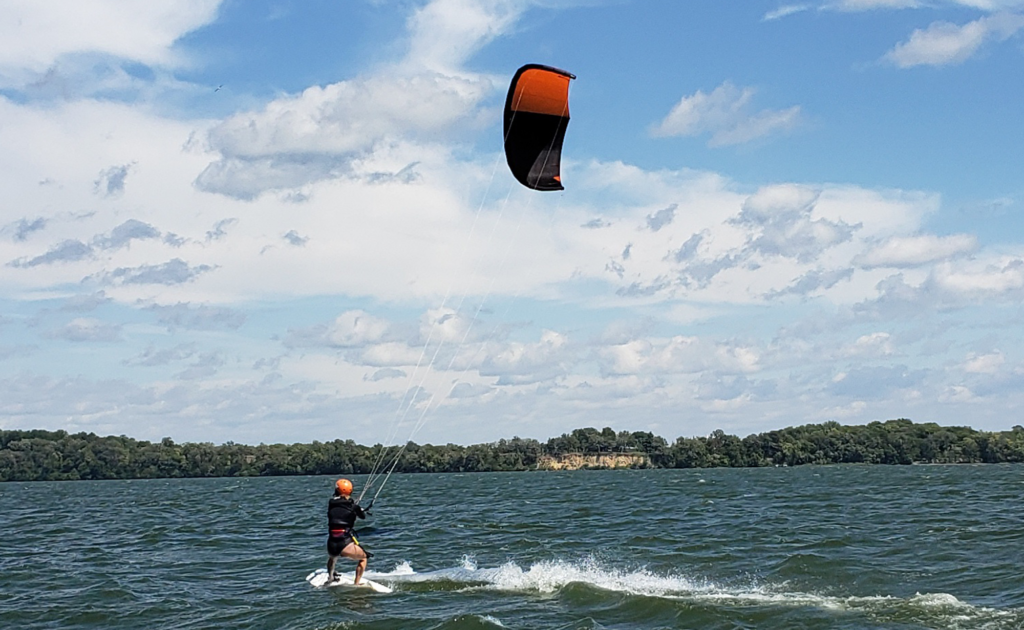 Cost: $125/hour Length: 2 hour minimum
This private one-on-one lesson is where it all comes together. After a short review of safety systems and launching/landing techniques, we put a board under your feet and get you riding. From here, the smiles continue to get bigger and bigger. We work on water starts, riding, board control, staying upwind and transitions. This lesson can be taught at Mille Lacs, Lake Waconia, White Bear Lake, Lake Washington or any number of other lakes around the state. In this lesson the use of a jet ski and radio equipped helmets help to maximize your time on the water.
Board Skills Lesson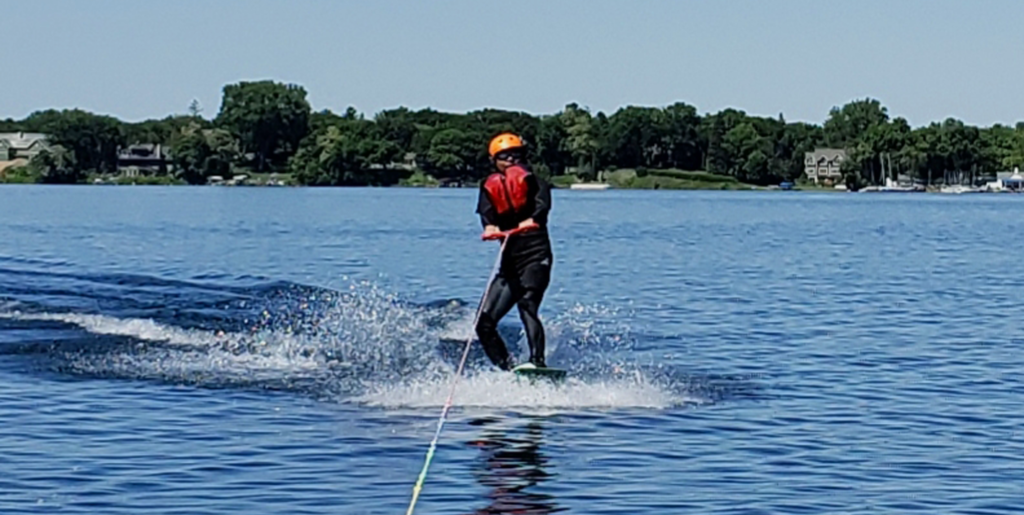 Cost: $150 Length: 2 Hour One-on-One Private Lesson
This Private one-on-one lesson is geared toward the student with little to no previous wakeboarding or snowboarding experience. We focus on getting you up and riding a kiteboard behind the jet ski. Emphasis of the lesson is on deep water starts, riding heelside both directions (necessary for kiting), transitions and general board control. This lesson is not mandatory but is a great benefit to those students looking to work on their board skills without having to worry about the kite.
Kiteboarding 1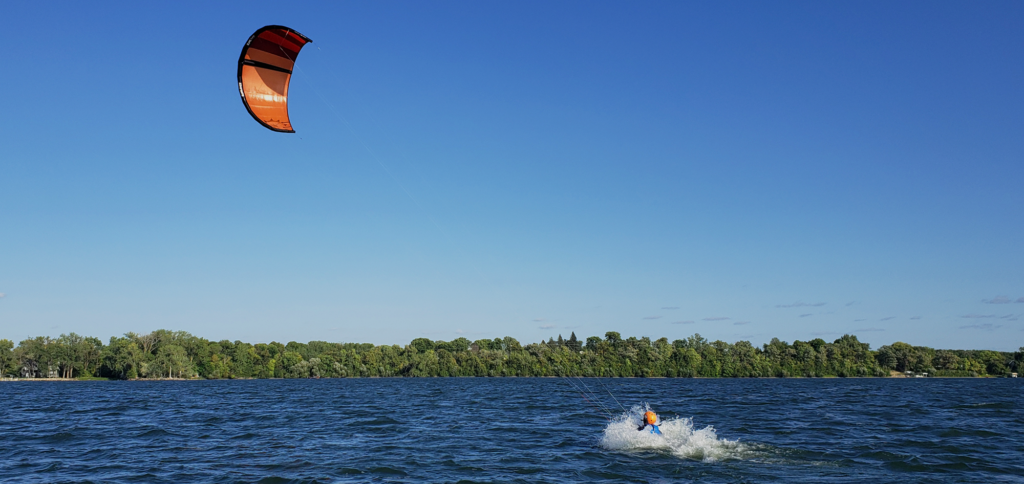 Cost: $270 Length: 3-7 hours max of 4 students/instructor
This lesson builds on the knowledge learned in the Intro to Kiteboarding lesson and introduces the students to the large inflatable kites used for kiteboarding in the summer. This class focuses on the following skills:
This class emphasizes the proper setup and safety techniques needed for kiteboarding. A majority of this class takes place on the water and culminates with powered body drags. Body dragging allows you to feel the power of the kite and learn to fly it correctly without having to worry about the kiteboard. Body dragging is also a very important technique to retrieve your board while riding, and can be used to self rescue.
Our on the water lessons are usually taught at Lake Waconia, White Bear Lake and Lake Mille Lacs. If conditions allow, we can hold this lesson in other locations too. Contact us for alternate locations.
Private Kiteboarding Lesson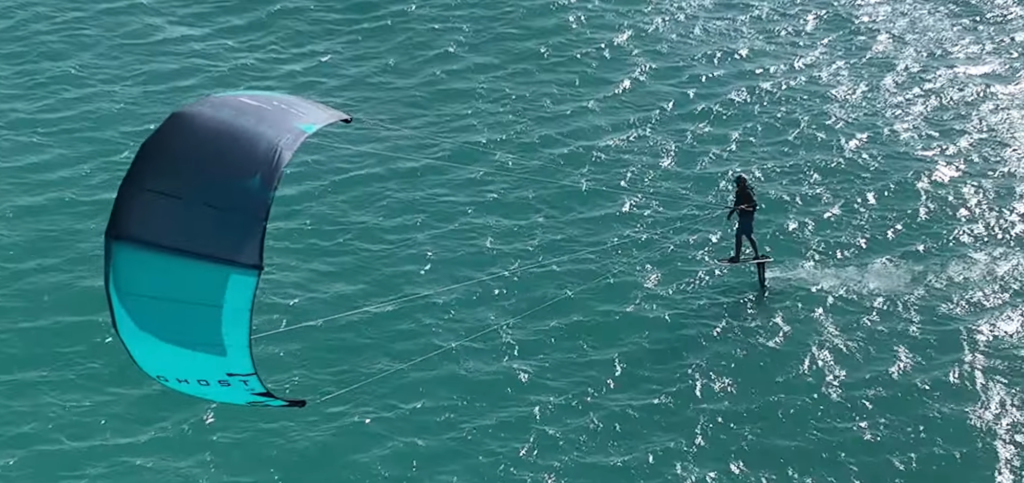 Cost: $125/hour Length: 2 hours minimum
Private lessons can also be scheduled if you are looking to work on more advanced techniques. Are you having difficulty staying upwind, completing powered transitions, looking for that first big jump, learning frontrolls or backrolls? Maybe you want to start riding a hydrofoil? Dynamik Kiteboarding can help you progress as far as you want! Schedule a private lesson and we can tailor it to your individual needs and goals.
Supervised Riding
Cost: $60/Hour Length: 2 Hour Minimum
Are you looking to get out and ride but not quite confident enough to go at it alone? Try a supervised riding session. While not a full lesson, we will keep an eye on you from the jet ski and help you out if you have any problems. We will also be there to shuttle you back upwind at the end of your session.
Winter Snowkiting
Enjoy winters by learning to snowkite!
Learning to kiteboard in the winter offers skiers and snowboarders the chance to get out and ride without crowds or lift tickets. Winter provides the opportunity to learn to kiteboard without worrying about sinking down in the water when making mistakes.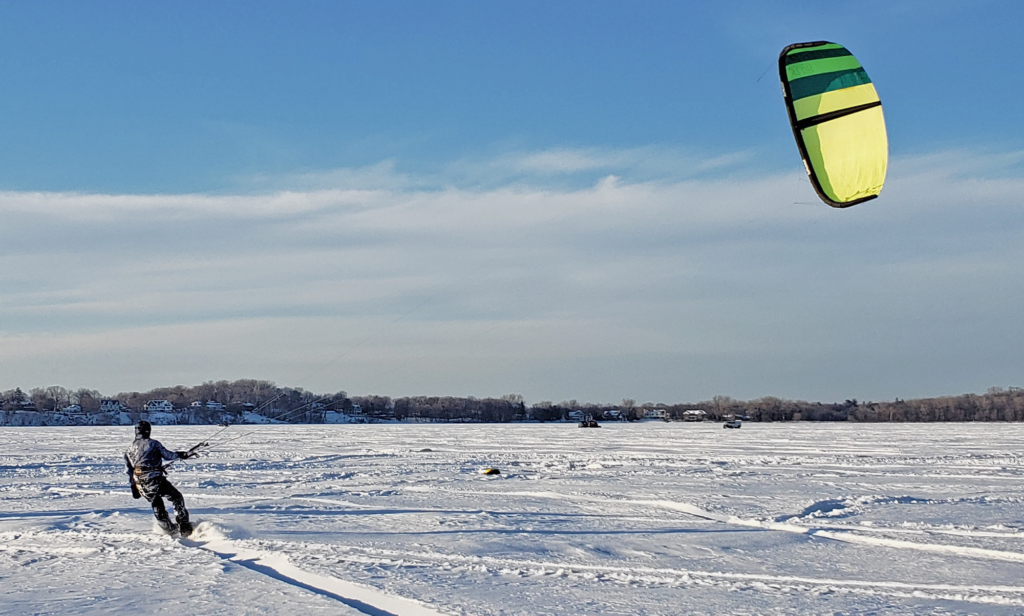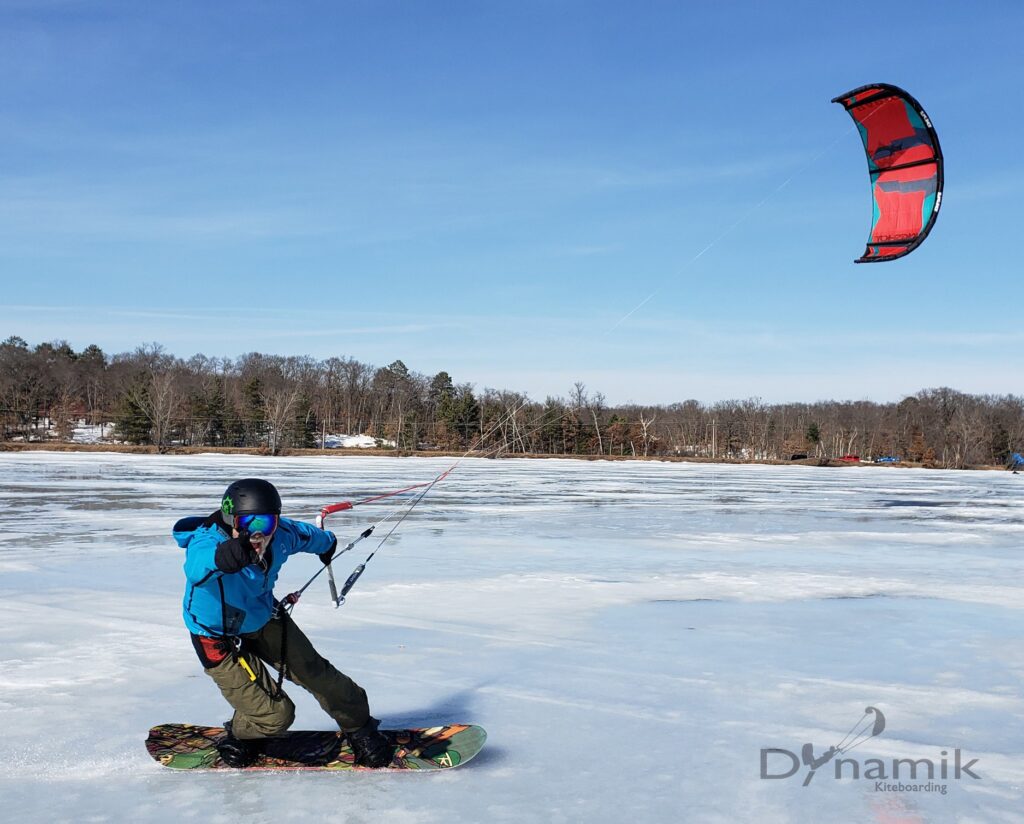 Snowkiting has a rapid learning curve and can be done on a frozen lake or snow-covered field. Dynamik Kiteboarding typically offers lessons on White Bear Lake, Lake Minnetonka, Lake Waconia, and Lake Calhoun. We often hold lessons on other lakes throughout the region, so please feel free to contact us about learning to snowkite in other locations.
Intro to Snowkiting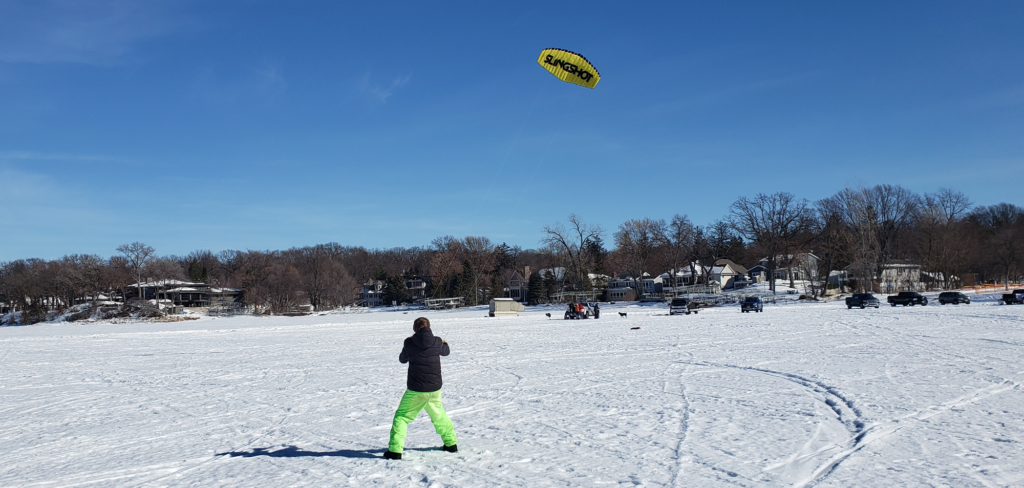 Cost: $270/person max 4 students per instructor
The Intro to Snowkiting lesson is geared toward the beginning kiteboarder. This lesson allows most students to go from absolute beginner to riding on their first day! We start with a brief description of the wind window, site selection, weather, gear and then move onto learning to fly a small trainer kite. The trainer kite allows the student to become familiar with the wind window, launching and landing the kite, controlling the kite and keeping the kite powered up. Throughout the lesson there is a focus on safety from all perspectives. From here, the student progresses to larger foil kites ranging from 4 to 8 meters depending on the snowkiting conditions and his/her individual progress. All snowkiting gear is provided.
Please bring your own helmet, skis/snowboard and boots if possible. If you are able ski and snowboard please note that skis are much easier to learn on for snowkiting. Dynamik Kiteboarding can provide skis, boots, and helmets if necessary. We will be on the lake for 3.5-7 hours depending on the number of students (max 4/instructor) so please dress accordingly and bring water and something to eat. If you are a skier, please bring a pair of winter boots as well.
Private or Advanced Snowkiting Lessons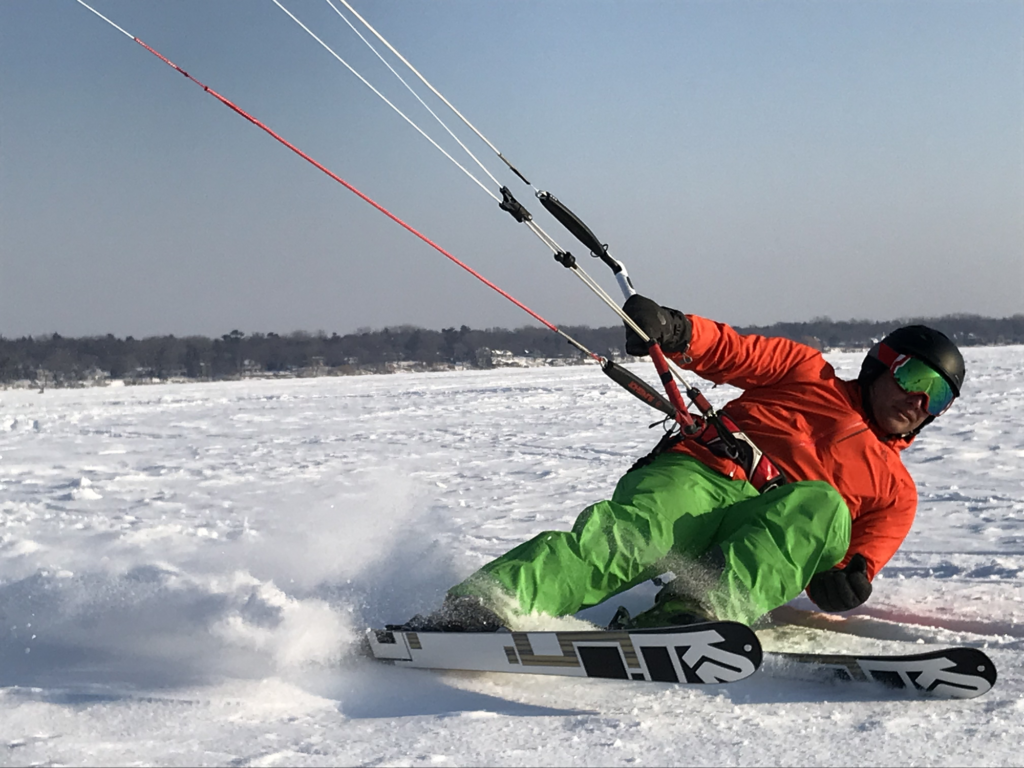 Cost: $100/hour (2 hour minimum)
If you prefer that your Intro to Snowkiting lesson is private, or if you want advanced snowkiting lessons we offer private lessons at an hourly rate. We can tailor a lesson to suit your individual needs and skill set. Whether you are looking to learn how to fly the large inflatable kites used for open water riding, dialing in your jumps, learning your back/front rolls, or just having a difficult time staying upwind, Dynamik Kiteboarding can get you there quickly and safely.